The Employees Provident Fund Organization(EPFO) has a separate PF member passbook portal which is different from the UAN portal. Here PF Members can log in to check their PF balance, view and download the Passbook using the same password as the UAN Password

Table of Contents
EPFO Member Passbook Login
Go to the EPFO Member Passbook portal
Login into the Member Passbook portal with the UAN ID and UAN Password as shown below




Once logged in, PF Balance would be displayed for the member as shown below


Scroll down further to see the Establishment where you are working and also see the current years of service for the PF account as shown



Check PF Balance in the Passbook
Once you have logged into the Member passbook following the steps above, follow the below process to check the PF Balance and the contribution by Employers and yourself by month along with the interest credited to your account
Click on the Passbook link on the Member Passbook portal as shown below


The Passbook Balance would be displayed along with the Contribution made by the Employer as well as the contribution made by the Member. Interest credited to the PF account by the EPFO would be displayed as shown


In case if the PF member has multiple PF accounts, then the current PF member ID can be selected from the top to view the PF Balance
Scroll down to see the month-wise contribution by the Employer and by yourself along with Interest credited


In case you need to see the PF Balance and contribution in the member passbook by year, then click on the year that's displayed on the left pane.
Download EPFO Member Passbook
Click on the Passbook link the top menu (or follow the above steps)
Scroll to the year-wise contribution
Click on the Download Passbook button at the right

Again click on "Download File"
Once the file is downloaded file, open the downloaded PDF.
Passbook data would be displayed for the year as shown below




Passbook PF Member Balance Taxable Data
Once you have logged into the Passbook portal, scroll down to see the contributions for every year. To see the taxable PF Balance data, click on the "View Taxable Data"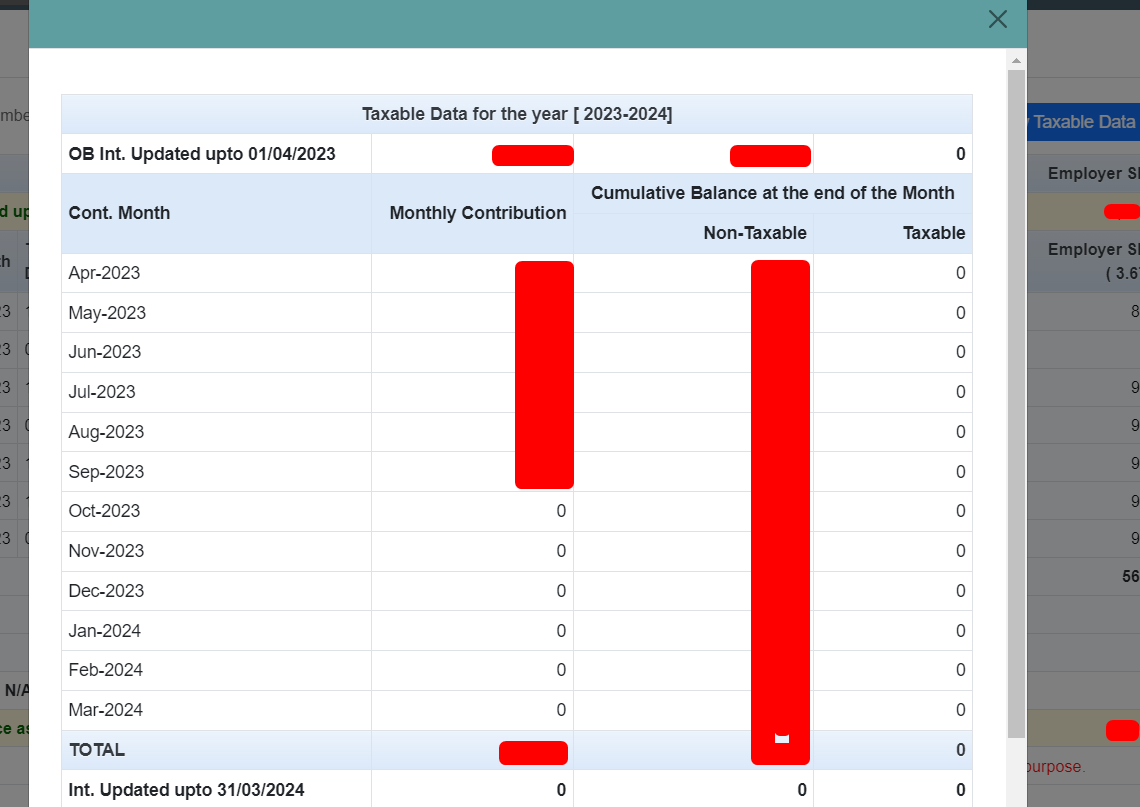 In the above screenshot, you can see the PF Balance as Non-Taxable. If a member has less than 5 years of service then the PF Balance would be taxable.
Reset EPFO Passbook Password
The password for the EPFO member passbook is the same as the UAN Password. To reset the password, follow the steps to change the UAN Password. Once the UAN Password has been changed, you may need to wait for 6 hours before you can use the same password to login into the Passbook portal.