How to block ICICI Credit Card Online?
ICICI Credit Cards can be blocked via online also if you have a ICICI NetBanking Login ID as shown below. This becomes particularly helpful when the card is lost or stolen and also even if you the limits for different transactions has been set on card, it would be necessary to block the card to prevent further misuse. Let us see below the steps involved in blocking the ICICI Credit Card below
Step 1: Login into ICICI Net Banking
Step 2: Click on Cards –> Credit Cards
Step 3: Click on "Block your Credit Card – Instant Deactivation"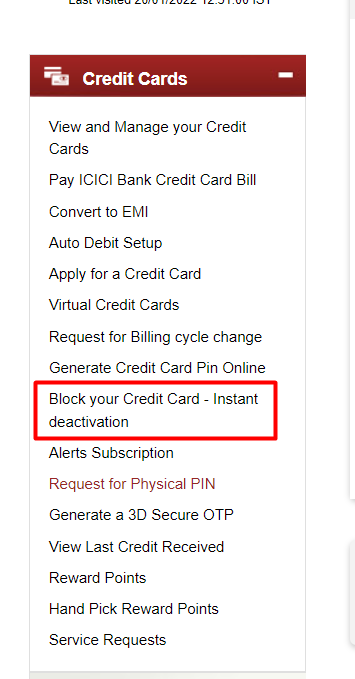 Step 4: List of cards would be displayed as shown below.

Step 5: Choose the card you want to block and then Click on Submit. Once the submit button is clicked, a service request would be created to block the card instantly. Once you block the card, the card can't be reused again..