EPFO has introduced an option by which we can change or update our address in our PF Account via UAN Portal. If you are an EPF Member then follow the below steps to either update or change your permanent/current address for your PF account in the UAN portal. The steps are as follows
Step 1: Click on View –> Profile

Step 2: In the Profile page, click on the Edit icon next to either Permanent or Current address.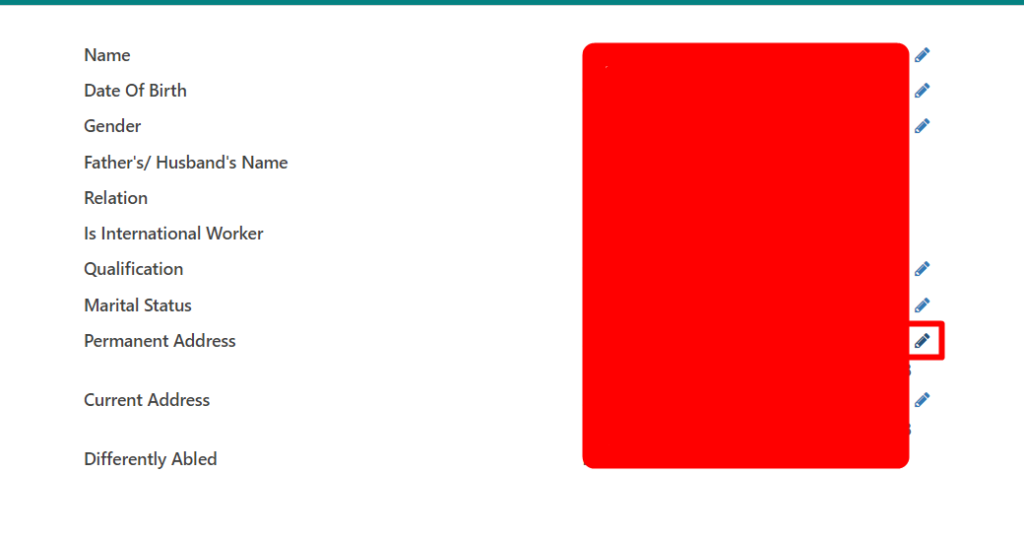 Step 3: Address page would be displayed as shown below. Here you can update or change the Permanent address as well as current address if they are different from one another. If the Permanent address is same as the Current address, then Enter the Permanent Address and then choose Permanent address same as the current address so that current address has also same info like Permanent address

Step 4: If your current address is not same as the permanent address then enter a different current address and click on "Submit/Update" as shown above. (Submit would be visible when you are first time updating your address). When you are changing it, you will get the update button instead of Submit.
Step 5: Once Address is saved, You will get a message as shown below saying Address has been saved successfully.

Step 6: In Case if you want to update the address again, you can go to Profile and Click on Pencil icon next to the Address. Once you click on it, this page would be displayed where you would be able to make corrections to the Address. Once you click on Update the address would be saved.